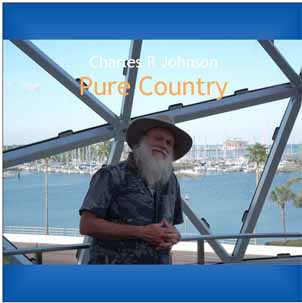 Pure Country
Charles R Johnson
Wednesday July 4, 2012
Calf Pond
8:04p.m.
Web Notes
I've been making music most of my life. . . I've finally decided to offer my work to the public

My first album "Pure Country" is now available at Amazon.com , itunes, etc. . . You can also listen to full streams on Spotify etc. . .

If you'd like to read the liner notes of the "Pure Country" album just click here

Making this album took years of writing, singing, practicing, learning the art of multi-track engineering, mixing etc. . . I didn't realize the real work would begin when I released the album to the world.

I co-wrote a set of content management computer systems to manage the album sales on my own site. Nonetheless, I needed to enlist the services of a distributor, CDBaby, who could also manage sales through Amazon, iTunes, Spotify, Rhapsody, and various other sources.

Even so, I've got so much work to do with promotion, and getting the word out that it's purely ridiculous. So, spread the word if you like my work. . . I need the help.

Below are Concert Videos featuring a couple of songs on the Album, and a button to send me Email.